Adaptive lighting is an advanced technology that precisely adjusts public and street lighting according to real-time traffic, luminance, and weather conditions.
This solution, recognized in the recent UNI 11248 regulation (equivalent at the European level to EN 1320), features the innovative ability to adjust the power of lighting devices according to the actual lighting requirements of urban and road contexts.
Integrated with a remote control system, the adaptive technology operates in two adjustment modes, determined by the parameters used to define the operational lighting category: TAI and FAI, which will be discussed in detail.
Through LED technology, lighting becomes dynamic. When connected to a telecontrol system, it allows for adaptive lighting.
Adopting this approach promotes energy sustainability, essentially using "the energy needed, when it's needed," for mutual social and energy benefits.
How Adaptive Lighting Works
Adaptive lighting requires two elements:
A remote control system, a connectivity system that connects various lighting points throughout an area via software.
Cameras with data pre-processing capabilities, enabling lighting devices to communicate directly with gateways for monitoring and management.
As mentioned, there are two adjustment modes.
TAI (Traffic Adaptive Installation) uses a traffic detection device to count the number of vehicles in each lane in real-time. With a sampling algorithm, it can increase or decrease the operational category by up to two levels.
FAI (Full Adaptive Installation) uses a traffic and luminance sensor to detect road light levels and weather conditions.
Through the use of the TAI system, it is possible to reduce the lighting class of a specific road area if the detected traffic is less than 50% of the nominal value. In cases where there is a decrease to 75%, a further reduction of up to two classes is permitted.
Unlike the TAI, the FAI system adopts a gradual and continuous update of the lighting class between one category and another, aiming to achieve maximum energy savings. In this sense, we can say that "the lighting continuously adapts."
The camera is the adaptive solution integrated into the control system that, in real-time and precisely, captures data to transmit to the gateway communicating with the management platform. This results in adjusting the lighting power, either increasing or decreasing, depending on the entered parameters, such as traffic flow.
Therefore, this device, through an algorithm, identifies the required lighting level for that specific vehicular and pedestrian area, while the control system communicates with all installed nodes, point by point, to use the necessary amount of energy at that particular moment.
Why Choose Adaptive Lighting
In the adaptive system, as stipulated by the UNI 11248 regulation, the lighting level is guaranteed based on measurements taken at a specific moment and is not based on pre-programmed operations. Moreover, it is a parameter set by the reference regulations that provide specific lighting specifications for different lighting classes, assigning minimum values for luminance, illumination, uniformity, and glare control.
Selecting this solution means consciously using energy, maximizing benefits, and reducing waste.
For effective implementation, the adaptive solution should be linked to a comprehensive telecontrol system, prepared for extensive urban areas and not just individual segments.
The key element in creating an adaptive project is the work of the lighting designer, as they are responsible for defining the boundaries of the project and its scalability. This individual must highlight the solutions chosen for adjustment, considering two aspects:
Installation of an adequate number of measurement systems to cover large representative areas, to assign appropriate lighting categories for operation;
Adjustment applied to lighting systems of the same project category, to achieve optimal and consistent results. It is clear, therefore, how adaptive lighting is a flexible and scalable tool, as it allows the designer to implement control systems based on the actual needs of the reference context.
Thus, adaptive lighting is flexible and scalable, allowing designers to implement telecontrol systems according to the real needs of the reference context.
Types of Adaptive Lighting
There are various types of adaptive lighting designed for urban, road, and industrial contexts.
Some adaptive solutions are based on:
Ambient brightness, adjusting luminance depending on available light.
Color temperature, altering light to be warmer or cooler as needed.
Scheduled on/off times or intensity adjustments according to specific needs.
Choosing a fitting adaptive solution for one's lighting needs is crucial. Relying on industry experts means designing functional, high-performance lighting systems that are easy to install, ensuring a quick return on investment without heavy maintenance or replacement costs.
For urban contexts, it's vital to develop solutions and products that focus on the adaptability of vision in public applications. Advanced connectivity systems, as we've seen, regulate the use and characteristics of light based on context. This way, energy efficiency and community service needs align with people's comfort and well-being.
Products that may interest you
Eidos
The new shape of street lighting.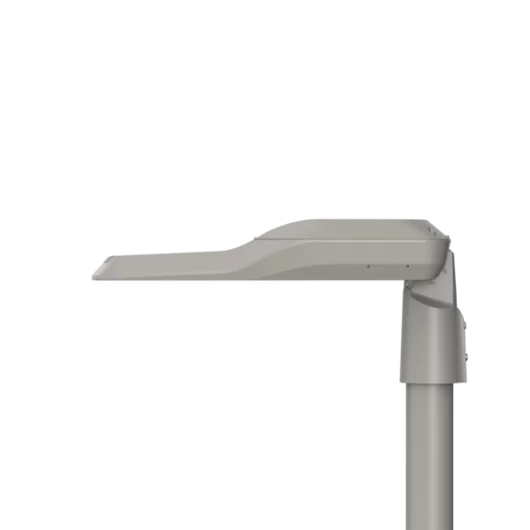 SLCS | SLCM Talede Plus
The best combination of performance, quality and safety
Noesi
Flexibility combined with maximum functional effectiveness