SkylarkNet
The system for invisible, constant, intelligent connection between all network installations for the efficient management of urban areas
Download the brochure
SkylarkNet
Designed to be flexible
SkylarkNet is an open connectivity system for smart cities that can monitor and manage extended networks of lighting points and also allow the real-time identification of areas of inefficiency by adjusting energy consumption to the actual requirements of the time and place. SkylarkNet was devised GDS by design, meaning it boasts a design consistency of origin that guarantees a uniformity of conception, production, testing and maintenance.
SkylarkNet does not suffer from the typical limitations of proprietary systems since it is built on open standards of interoperability, to make it compatible and integrable with the various systems already adopted within municipalities.
SkylarkNet avails of star-type architecture, guaranteeing lower power consumption, with transmitters activating on demand, and greater safety due to each point operating independently.
The system utilises a network frequency with an 868 MHz signal that ensures reliability and stability even when the network is very crowded.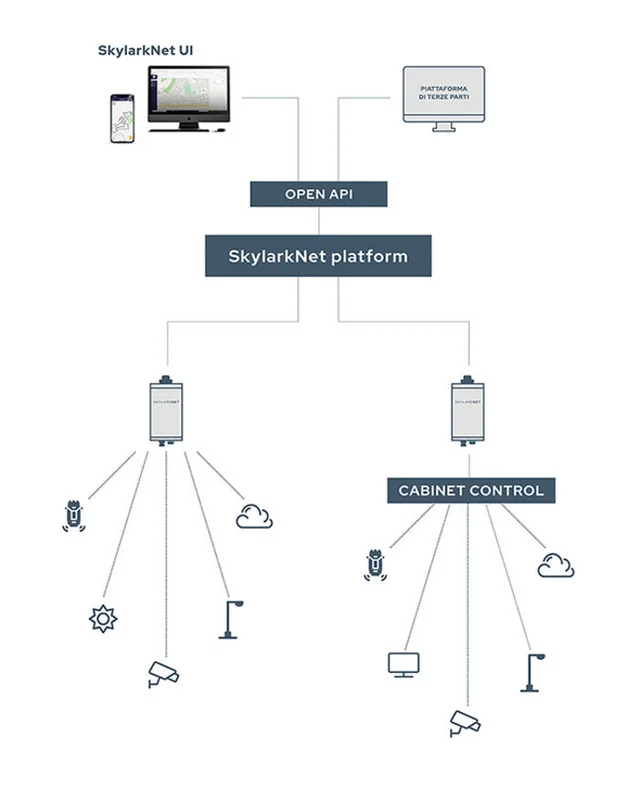 A BRIDGE CONNECTING CHOICES OF TODAY TO THE EVOLUTION OF TOMORROW
to combine an efficient management of resources with the well-being of the citizen.

Measurable and guaranteed savings
Flexibility and control of installations
Security for citizens
Projects of
Urban lighting
3L
PROJECT 3L
A major public lighting redevelopment project in the provinces of Padua and Belluno
OUR BEST CONNECTED LIGHTING SOLUTIONS
Our broad and versatile product range enables us to create tailor-made solutions for each client, since every job needs flexibility and precision.